Visiting the most glamorous destinations around the world is no less than a dream. From breathtakingly beautiful cities like London and New York to culturally diverse countries like India or Indonesia, there is much to explore in this single life. But, there are people whose passion is to discover those places that are 'far away from the madding crowd,' where nature whispers closely to the ears, and the eyes are blessed with serene beauty. And among such places is Quechee, an undiscovered, beautiful neighborhood of Vermont.
Not many people have heard the name Quechee before, but this little village is blessed with picturesque views and is very close to nature. Do not mistake it as an abandoned or less-trodden village with zero availability; there is so much to do in this little village. So much adventure awaits in Quechee, and if you wish to experience it most luxuriously, you can check out Quechee lakes vt real estate properties that are straight out of a dream.
Why Is Quechee Vermont In The Limelight?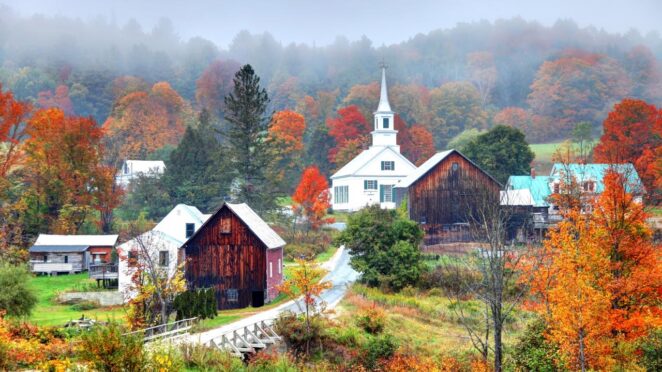 Many might have never heard that a place called Quechee ever existed in Vermont. But it turns out Quechee is one of the most beautiful villages in Vermont that is full of scenic beauty, little adventures, beautiful parks, age-old factories, beautiful forest trails, and so much more. But mostly, Quechee is in the limelight for its Gorge Bridge which is indeed the most impressive and tallest bridge in Vermont.
Apart from its enthralling tourist destinations, this village gets its fame also for its finest vineyards and wineries, the famous Jake's Quechee market, where you get carried away by the alluring smells coming from bakeries, and the pretty little roadside cafes that one can stop by to taste most delicious pancakes and hot chocolate.
If you live in Vermont or are about to visit and wish to explore its neighborhoods, then Quechee should be on your list for a mesmerizing day trip, solo, with your family or loved ones.
Top 10 Things To Do In Quechee, Vermont
There are many surprising things to do in Quechee, and most importantly, you can enjoy many adventure activities in this beautiful village. Here are the ten best things not to miss when you are visiting here:
Gorge Bridge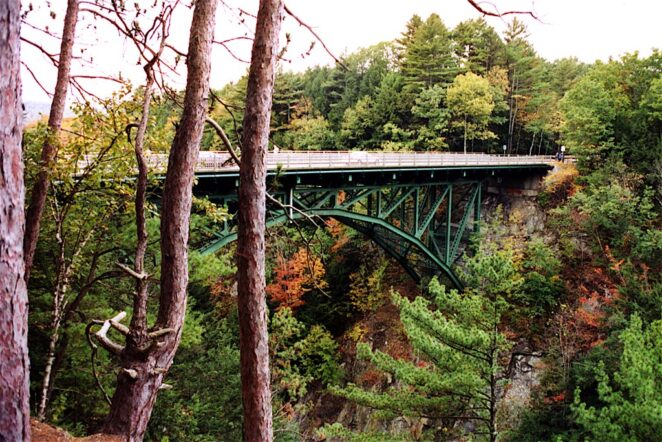 The most-visited attraction of Quechee with an enticing history to share, the Gorge bridge was built in 1911 to serve as a railway bridge. However, in the modern day, it is no longer a railway bridge and is used as a tourist spot where visitors can walk and take pictures. The bridge shares breathtaking views of the gorge trail that flows down below.
Gorge Trail
To take a stroll or ride along the Gorge trail is the best thing to do here. The serene beauty and the calm water of the Gorge are enough to calm your soul. The Gorge is spread for approximately 1.3 miles and takes 33 minutes to cover by foot. People often visit here for bird-watching, hiking, or to admire the view that brings them so close to nature.
Simon Pearce Glass Factory
Named after the Entrepreneur of Irish-American origin, the Simon Pearce glass factory has been renowned for decades for manufacturing the finest handmade glass products and pottery. Simon Pearce also has a flagship store where you can buy the best glassware and visit the restaurant to try out some lip-smacking meals.
Quechee State Park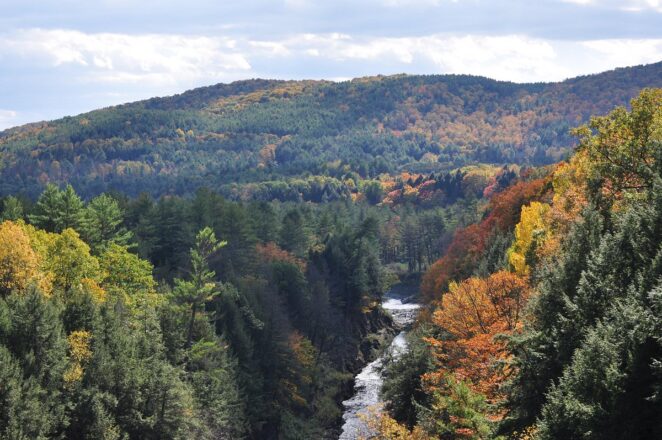 For the adventurous souls, Quechee State Park is breathtakingly beautiful, with hiking trails and beautiful Upper-Valley attractions. If you visit here in Autumn, you can witness the most beautiful colors of nature; the trees here turn yellow and red. This park also offers a mesmerizing view of the Gorge.
Hiking Trails
The most beautiful hiking trails lie in Quechee. You can choose to either hike in the popular Gorge trail, relatively easier, or the Mount Tom via Faulkner trail or the most adventurous Appalachian trail from Hanover to Gorham.
Exploring The Neighborhood Of Woodstock
The neighborhood town of Woodstock is rich in history and is home to the oldest squares and cobbled streets. If you wish to travel back in time, this little town is full of surprises.
Visit Jake's Market
A popular place to dine and try out the best pancakes or waffles, Jake's Market is a must-visit if you are visiting this village. The place also offers the best-quality wines and beers.
Visit A Vineyard And A Winery
How wonderful it feels to be able to visit a vineyard, and Quechee has quite many of them. And this is one of the main reasons why this village also serves the best-quality wine. You can visit a private vineyard and its winery to experience something unique if you interact with the locals or local tour agents.
Meet Adorable Alpacas At Living The Dream Alpaca Farm
Alpaca farms are the happiest place to be, and you can live the dream of meeting these adorable and friendly animals at the Living the Dream Alpaca Farm. If you are traveling with kids, they would undoubtedly love to make friends with these cute animals.
Explore Vermont Antique Mall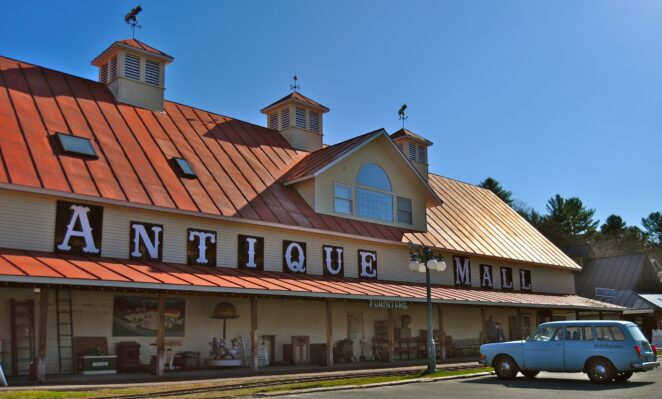 If you wish to take home some souvenirs, why not explore the Vermont Antique Mall on your way back home? This antique mall has the finest collection of antiques, and every piece has a history and story. This mall is a treasure for those who take an interest in collecting antiques.
Final Words
No matter which adventure trail you choose to hike or what restaurants you eat in, Quechee is one of a kind, and it has got so much to offer to an adventurous soul like you. If you are a fan of cheese, then Quechee is home to the best-crafted Cabot cheese that you can try. You can also take a hot air balloon ride here and make the most of your adventures.