The beauty of traveling in a campervan is that you should be able to enjoy all the creature comforts of home and maximum freedom simultaneously.
However, if your campervan feels more basic than beautiful, you may not be enjoying the experience as much as you should be.
Fortunately, there are many ways you can make your campervan feel more homely, whatever your budget.
From a fresh lick of paint to the addition of personal items, read on to discover nine ways that you can make your campervan feel like home for you and your family.
1. Update the interior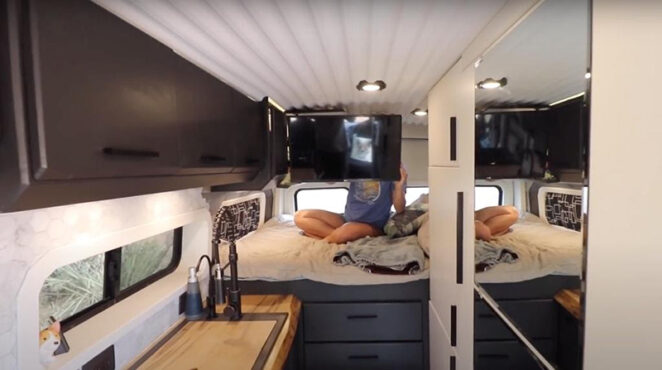 If you bought a used or second-hand campervan, then the décor may look a little bit drab and dreary. Or maybe it's just not to your taste. Either way, by updating the interior, you can put your personal stamp on your investment and make your campervan feel much more homely.
For a budget-friendly solution, try giving the interior of your campervan a fresh coat of paint. To make the space feel bigger, opt for white or a light shade. You can also paint the cabinets if you want to inject some more color into the space.
Alternatively, if you have more cash to splash, you could replace all the furniture in your campervan for a completely new look.
2. Add soft furnishings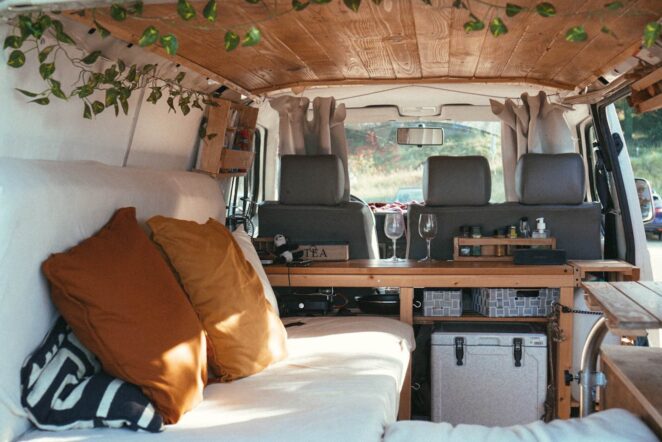 Think about what makes your home feel warm and welcoming. Most likely it is the little extra touches rather than the larger items that make your home feel like your own.
The same goes for your campervan. If you want to make yours feel more like your own home, you need to pay attention to the smaller details. For example, remove any soft furnishings that you don't like and replace them with ones that are more suited to your tastes.
You may be surprised at just how effective a new rug, a few throws, and a selection of scatter cushions can be in making you want to spend more time in your campervan.
3. Decorate with personal belongings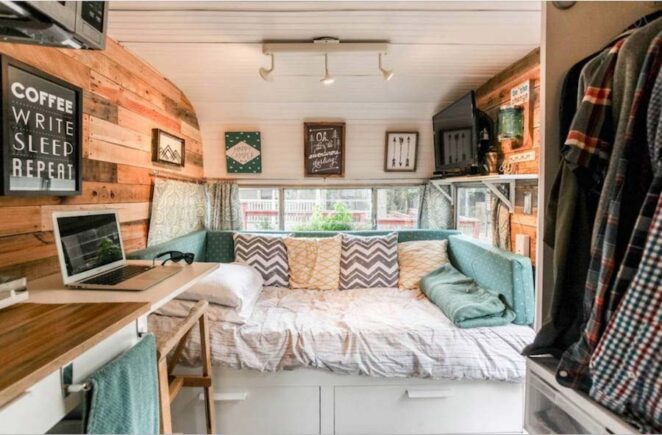 Do you have any family photographs in your campervan? Pictures of your children's artwork? Postcards on the fridge?
If not, this might be what is preventing your campervan from feeling like home.
So simple but oh-so-effective, it only takes a few personal items and sentimental belongings to make your campervan really feel like your own. You don't need to spend a lot of money on this; just add a few touches here and there, and it will work wonders.
If you don't want to take items from your home, consider investing in a portable printer so that you can print out images from your travels and hang them around your campervan.
4. Use aromas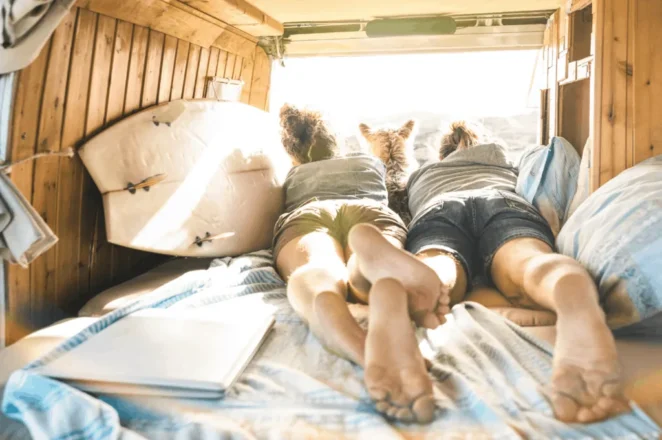 Do not underestimate the power of aroma to make a space feel like home. In fact, studies show that familiar scents are one of the top 10 things that remind people of home.
There are lots of different products that you can place in your campervan to make the space feel more familiar, such as air fresheners, essential oils, incense sticks, and freshly cut flowers.
5. Install soft lighting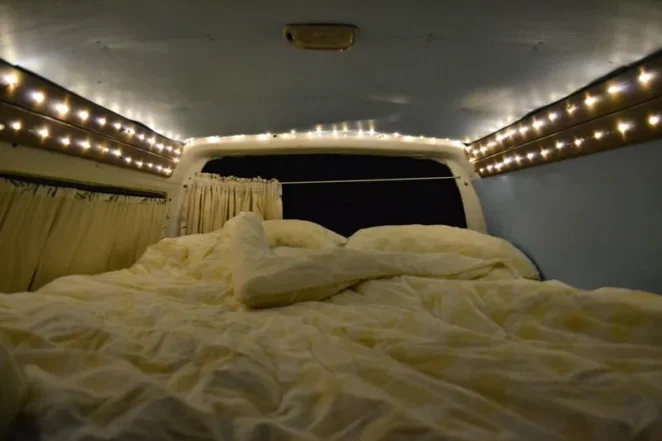 The lighting in campervans is often quite harsh and unwelcoming, which can make the space feel a lot less homely. Soft lighting, on the other hand, will instantly make your campervan feel more cozy and inviting.
Although you may not be able to change the overhead lighting, you can add soft lighting elements such as fairy lights, candles, and floor lamps, all of which will make you feel more relaxed and at home.
Make sure you store these away safely when not in use to prevent any fires or accidents from occurring.
6. Bring board games, movies, and music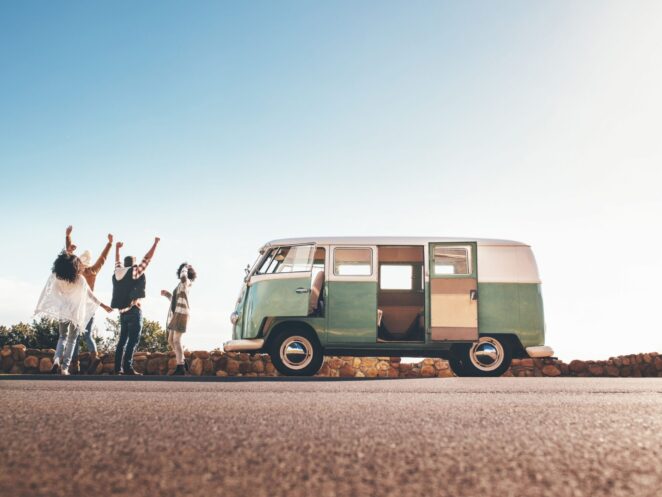 Children and adults alike can become bored on long road trips, so it can be a good idea to stock your campervan up with your favorite board games, movies, and music from home.
Offering a low-cost but highly effective way to keep everyone occupied and to make your campervan feel more like home, you may be surprised at just how much this helps you to relax in your new surroundings.
Bringing your favorite foods from home can also help to make everyone feel more at ease and make sure bellies are kept full and satisfied.
7. Keep up with maintenance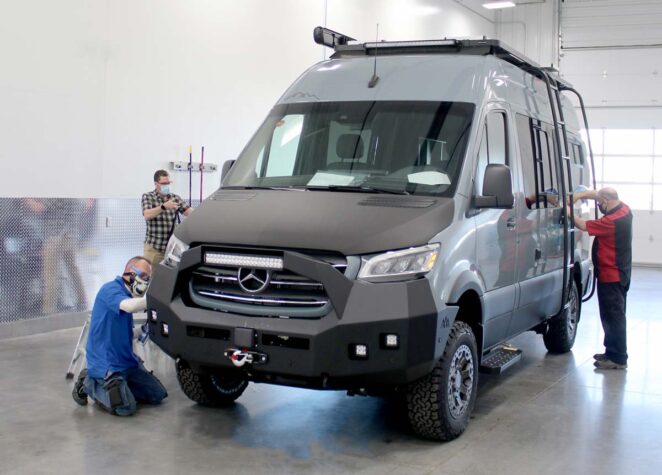 There is nothing worse than a tired-looking campervan, with even a few signs of wear and tear affecting the overall vacation experience. Therefore, as a campervan owner, it is vital that you keep on top of maintenance to ensure your vehicle looks its best all year round.
Weatherproofing is essential to protect your investment from the hot sun in the summer and the harsh wind, rain, and snow in the winter. You also need to make sure you regularly check the brakes, electrical systems, tires, and roof for any signs of damage.
Remember, the sooner you deal with any issues, the less expensive they will be to repair.
8. Give it a name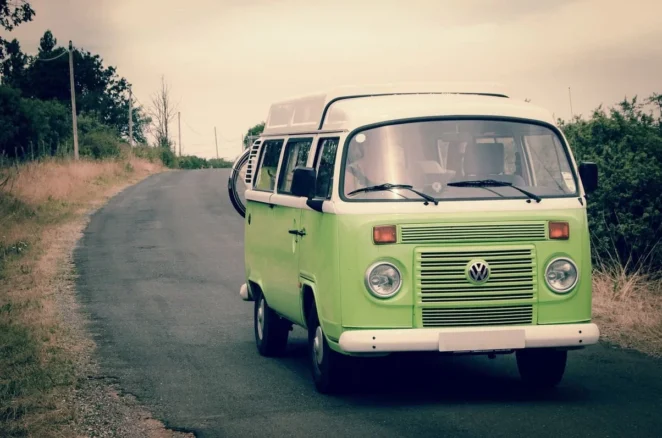 You know how some people name their boats or their homes? Well, why not name your campervan too? Although this may seem silly, by giving your campervan a name, you and your family will automatically feel more of an emotional connection with it, which, in turn, can make it feel more homely.
If you have no idea what name to give your campervan, why not sit down together as a family and have a brainstorming session? Think of the process in the same way as choosing a name for a new pet.
9. Buy some indoor plants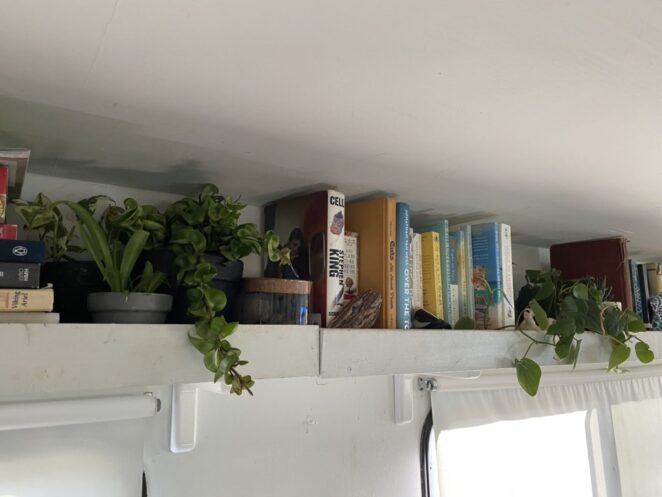 Although you are likely to be surrounded by nature when you are traveling in your camper, that doesn't mean that you also can't add a little bit of greenery to the inside of your van.
Studies have shown that indoor plants can make you feel more energized, uplifted, and happy, which can help to counteract the cramped conditions of a campervan. You can also get indoor plants that are designed to aid sleep, such as lavender and peace lily.