Things to do before you die, a list of experiences you set out for yourself and hope to achieve while you are on this Earth. It probably varies greatly from person to person, but some things are probably on everyone's list. In this article, we look and Amsterdam and the things you should absolutely do in the capital of the Netherlands. Buckle up and enjoy 46 things to do before you die: Amsterdam edition.
1. Climb the Westertoren
At 40 meters, this is both the tallest and the prettiest tower in central Amsterdam. The views from the top are marvelous, and it has a rich history, dating back to 1638. It holds the crown of the Hapsburg emperor on top, while greats like Rembrandt are buried below. Entrance is by a guided tour only and costs €7.50. The tricky part is that only six people are allowed up every half-hour, and it is only open in the summer.
2. Bungee jumping over the IJ at the Faralda Crane Hotel
This version of bungee jumping is a bit different, as you first get 30 minutes to admire the view from 50 meters high, and then you go down swinging and screaming.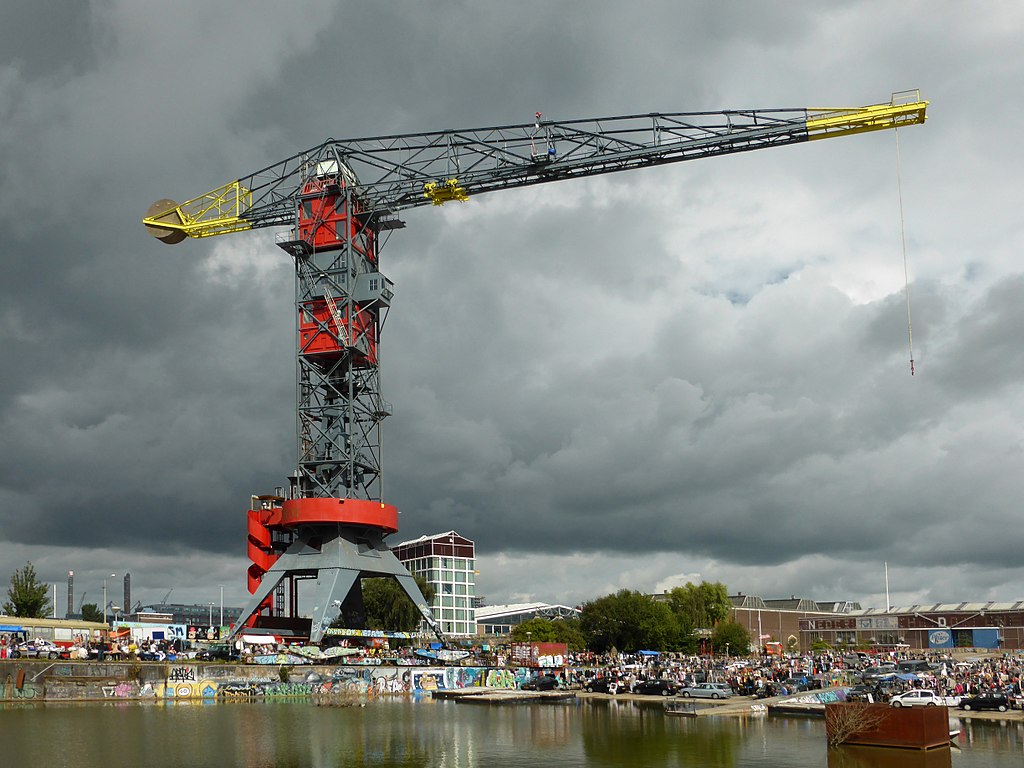 3. Attend a concert at the Concertgebouw
Even a free lunchtime concert is a beautiful experience. If you really want to, the Robeco Summer Nights in August is the best time.
4. Bike to Ouderkerk aan de Amstel
This amazing picturesque village is only a 30-minute bike ride from the center. It has open green spaces between two southern-reaching arms of the city. Classy restaurants like Jaimie van Heije make great use of the ever-charming surroundings.
5. Bike through the tulip fields around Haarlem in April
No explanation needed, just take your bike and enjoy!
6. Witness Ajax winning a home game
DO it at least once even if you are not a huge soccer fan, because the enthusiasm is contagious, and the chants are "special" if you speak Dutch.
7. Party at the Ruigoord
This is an old village in the western reaches of Amsterdam's harbor zone. It is basically a squatters community that became an artist retreat. It is a place where all the creative juices are flowing whenever they have an event. The best time is the five-day Landjuweel Festival in August.
8. Experience a bubbling fountain on Frederiksplein
Take a walk by this isolated fountain late during the night to see a square overflowing with magical bubble foam. It looks magical.
9. Take your "truffles" to the Amsterdam Forest
More space and privacy await there, and a varying landscape of natural scenery is beautiful. Do it in the Spring when the flowers bloom and make sure to bring friends.
10. Take a gondola ride through Amsterdam's canals
The "Venice of the North" nickname is there for a reason. For a hefty price of €140-250, rent your own gondolier for an hour or two. Many of them make their own boats and offer a bottle of prosecco and/or Champagne for a little extra.
 11. Dance in a club past dawn
Thanks to Amsterdam's Night Mayor Mirik Milan, the nightlife has never been better. The 24-hour clubs are now seven and include RADION, De School, Tolhuistuin, A'DAM Toren, Doka, and private party spaces and planners De Overkant and De Koning Events.
12. Karaoke night at The End
The grimy interior, rude staff, and stolen wallets aside, it is the best karaoke place in town. A crazy and packed place worth checking out for a great karaoke experience.
13. Visit Boom Chicago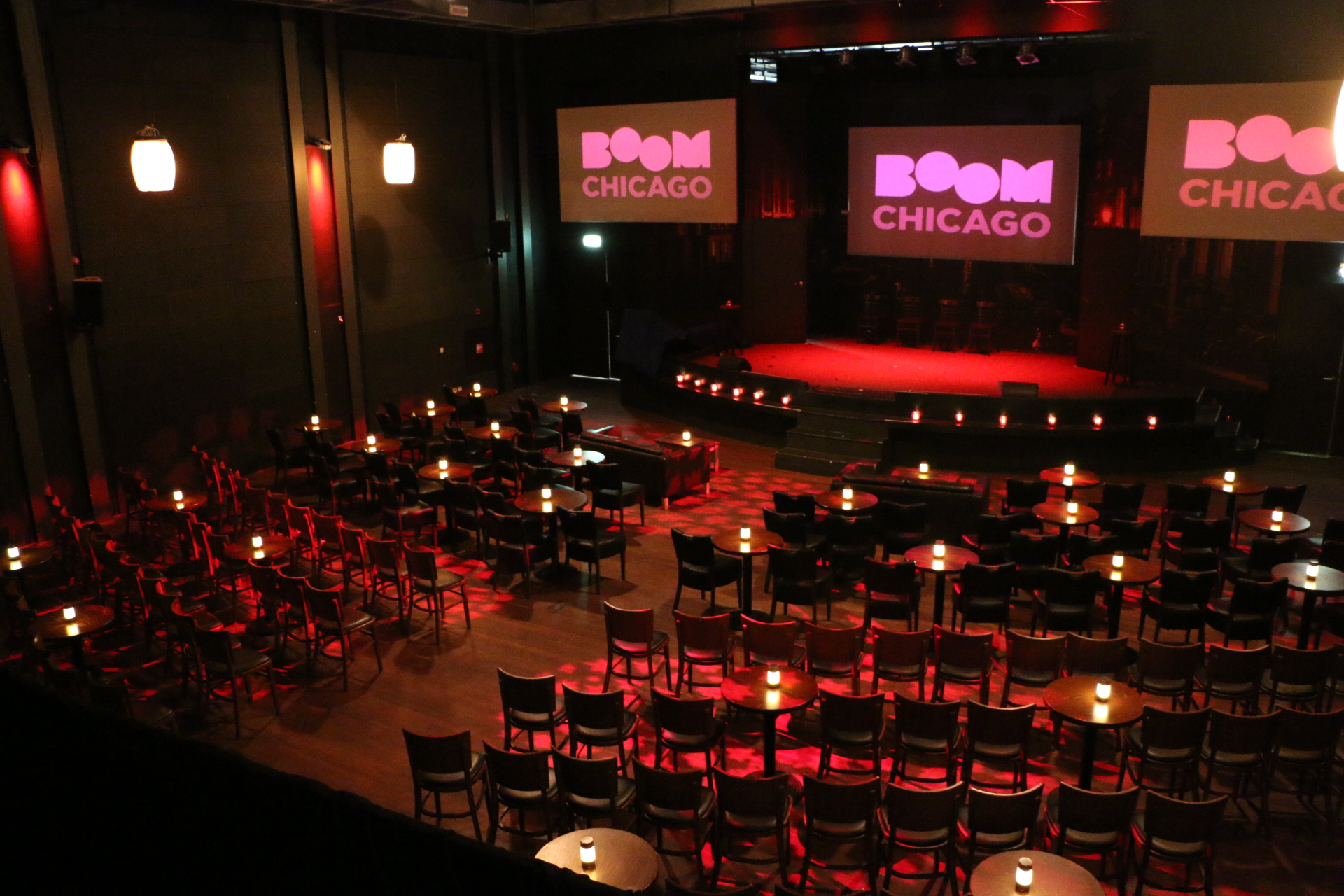 This nightly show has it all and is a mix of American and Dutch sketch and improvisation comedy. The team used to have Seth Meyers and Jason Sudeikis as members. There are also others like easy laughs, Mezrab, and other English-language comedy nights. Also, check out easy laughs' weekly workshops.
14. Rent your own boat
If you do not want a private tour, bring a maximum of five to seven friends and go to one of the rentals.
15. Go to a s*x show
After it ends, you will be shocked how un-scary the experience is. You will have stories to tell forever.
16. Participate in the Vrijmarkt on King's Day
Although it means reserving a spot day in advance, getting up early and staying with your stuff the whole time, it is worth the fun and craziness.
17. Watch Sinterklaas' arrival parade
Imagine Sinterklaas as the love child of Santa and the pope. He rides a white horse on a steamboat, surrounded by "six to eight black men." These guys are the thing as they hand out free candy.
18. Eat raw herring from a food truck
You must do this, and aim for June or July for the freshest fish possible.
19. Participate in a Friday Night Skate
Tons of Amsterdammers move through the city as a pack each week from Vondelpark at 8:30 pm. Friday Night Skate is a social-exercise institution, starting in 1997.
20. Go to Museum N8 ("Museum Night")
The late-night museum parties in November are awesome. You are able to play drunk dress-up or do arts and crafts inside museums, then dance until dawn. A special experience indeed.
21. Rent a tandem bike
It is Amsterdam and you can, therefore you should. Test the strength of your relationship!
22. Fall into a canal
Sure, you will have to be really drunk to fall involuntarily. However, according to made-up statistics, around one out of every five Amsterdammers accidentally fall in while tipsy. It is basically the city christening. However, around five people drown per year, so be careful.
23. Harvest fruit, nuts, and other plants
Picking edible plants around Amsterdam is increasing in popularity. Both hippies and high-end restaurants offer guided tours and workshops. Research your area to find out what is edible near you, or just go to the Fruittuin van West for a wide selection.
24. Do an apple pie taste-test: Villa Zeezicht vs. Winkel 43
How do you like an apple pie, saucy or chunky? This is an important fact about yourself, so discover yourself on the corner of these two streets.
25. Yell at a tourist walking in the bike path
This surely feels good deep down.  If someone walks over those pink paths, let them hear you.
26. Get a bike ticket
It is bound to happen. Whether it is your lights at night, or running a red light, at least you will contribute to society.
27. "Steal" a peek at the Artis giraffes without paying
From the Entrepotdok you can see into the giraffe enclosure without ever entering the zoo. You can also see a zebra, an antelope, and a few other animals from the savannah. If you move to the little Artisplein square behind the Plantage restaurant, you can see flamingos, camels, and reach into the petting zoo to steal some baby goat cuddles.
28. Get into a bike accident
Without a serious injury if possible.
29. Do a kopstoot, or "headbutt"
This is a tulip glass of traditional jenever, followed by a full beer chug. Pick the oldest bar you can find.
30. Buy a Senz umbrella
These funny umbrellas are one of the symbols of the city, and they need them. So do you.
31. Join a random event taking place on the Dam Square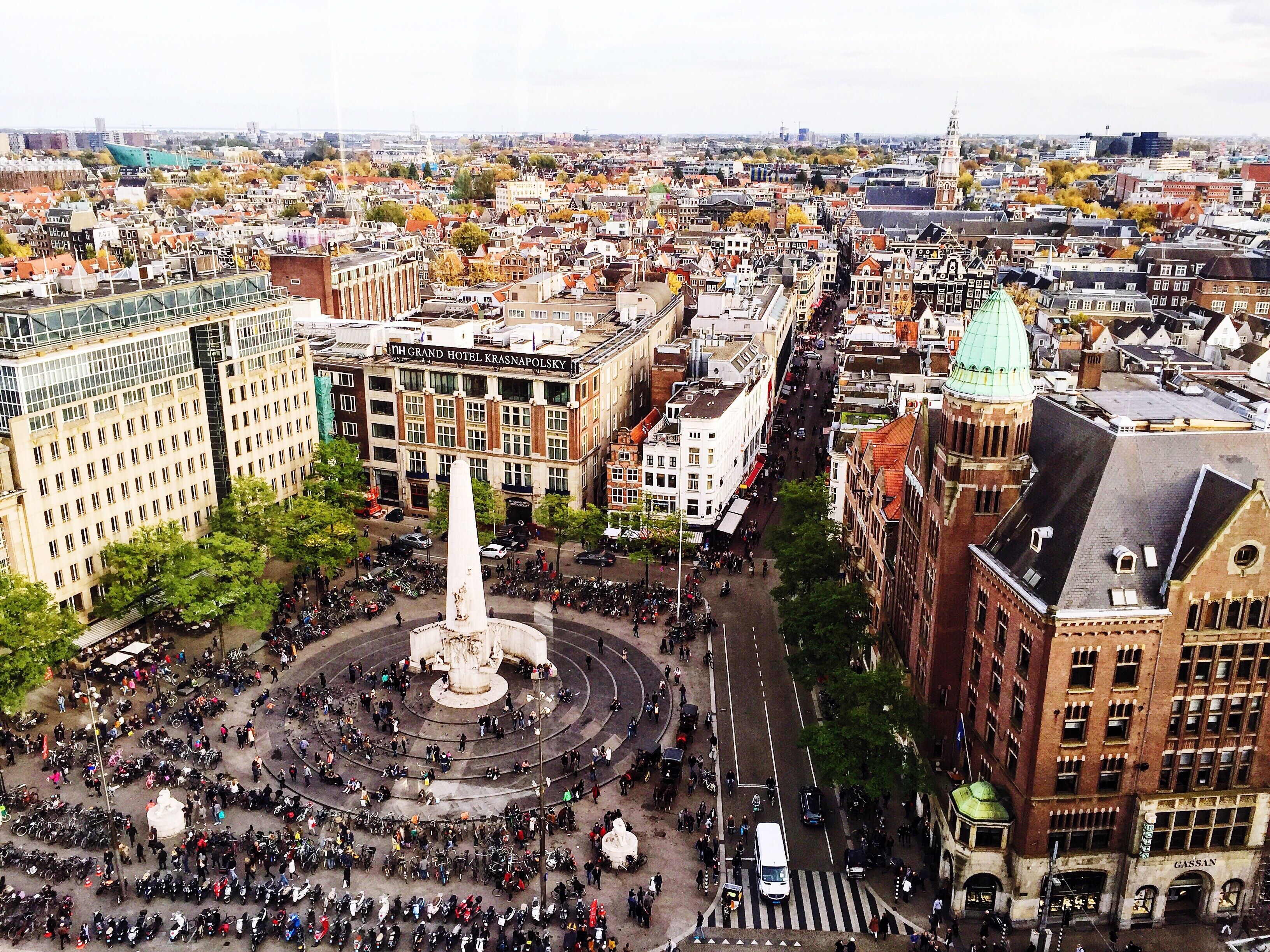 Serious protests, fun pillow fights and bubble days, all kinds of random things happen here, so jump in on the fun!
32. Play giant chess
The most famous place is Max Euweplein, the square named after the most famous chess star. Another set is in front of the entrance to the Tropenmuseum. The second one is not at all busy.
33. Play drag-queen bingo
Rowdy and raunchy, it happens each Tuesday night at The Queen's Head, so check it out.
34. Eat at the Garlic Queen
The decorations are a nod to the queen, and the menu is all garlic, from aperitifs to ice cream. After eating, you will receive a pin that apologizes to anyone coming your way.
35. Drink a Walking Dead cocktail out of a flaming crystal skull at HPS
Just like a zombie, except stronger and more impressive. The staff will not allow you three of these.
36. Snack on a HEMA rookworst
HEMA nails the delicious national smoked sausage of the Dutch. They also sell long hot dogs in funny circular bread, but the rookworst is the real deal.
37. Go over the edge in "Europe's Highest Swing"
If you hate bungee jumping, come here and stay firmly in your seat while your toes dangle from 100 meters over the IJ. The giant swing seats two and is on A'DAM Toren's Lookout platform.
38. Take a culinary cruise to Lighthouse Island
They now have a winter restaurant, so it is open year-round for those nightly meal occasions that include a stocked round-trip cruise and plenty of leisure, booze and fine dining. Just make sure to book two months in advance.
39. Find out what glows in the dark
Among all the weird and wacky museums, Electric Ladyland is one of the smallest and quirkiest. Their theme is fluorescent geology, but we like to think of it as one giant mind trip-photo opportunity combo.
40. Swim in the canals on purpose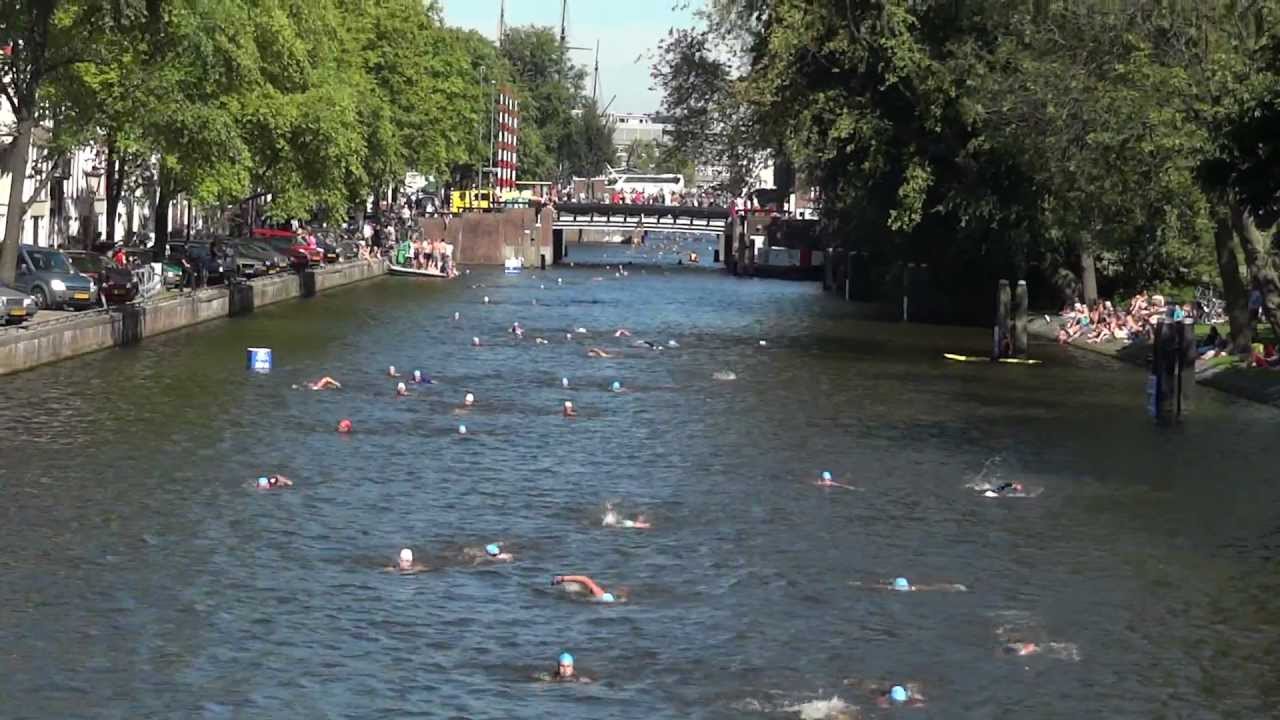 If you do not mind smelling funny, jump in and swim in one of the officially clean-and-safe places in the Amsterdamse grachten. Roest is the best place to start.
41. Farm out your fun
It will take you just 10 minutes of cycling. Behind Westerpark is Buurtboerderij Ons Genoegen "Neighborhood Farm Our Pleasure", where life slows down, and the prices are non-standardly cheap or even free.
42. Scream bloody murder at an all-night horror fest
There are two of these each year, Fright Night during the Imagine Film Festival in April, and Mr. Horror's Halloween Horror Show in October. Both offer four films and a wide range of activities, from trivia quizzes to screaming contests. It all happens from midnight to 5 am.
43. Eat at a foodie pop-up
There is one every day of the week/month/year, so go for anything. Start with the doehetzelf fusion dumpling.
44. Get some fries at Vleminckx
Get in the line at Voetboogstraat to find out why it is there. Become one of the impatient people there, you will not regret it.
45. Taste centuries of cheese history at Reypenaer's tasting room
Wyngaard cheeses are tasty, but there is nothing like the salt two-year-old varieties aged in warehouses centuries old.  There, professionals make sure the wheels soak up the tasty bacteria evenly. In addition, the cheese guillotines are fun to play with, while everyone knows how wine goes with cheese.
46. Join a King's Day (or Night) boat party
Things like these are cliché for a reason, so just go and do it.
There you go, Amsterdam's 46 things to do before you die. How many have you tried? How many would you try?