It is hard to cross two streets today without passing by concrete barriers. You probably have concrete retaining walls in your compound or the outside of your workplace. However, not many people take their time to think about the versatile nature and use of concrete barriers. Concrete barriers have many uses that can make your life easier. It is impossible to include all the uses of concrete barriers. The following are ideas you can adopt, or creatively combine to functionally and affordably use concrete barriers and retaining walls to your advantage.
Uses to provide protection
Safety is the number one function for concrete barriers. Among the useful ways concrete barriers promote security are:
Construction works: Construction sites pose various dangers to the workers and those using the roadways surrounding the area. The use of heavy machinery and equipment can be distracting to the drivers and onlookers. Barriers are strategically placed to separate the construction site from roadways and pedestrian routes.
Entertainment events and festivals: Concerts have a lot of activities going on at the same time. You can use concrete barriers to separate the parking spaces, as makeshift commercial stalls, and where the main festivity is taking place. Concrete barriers help to guide traffic in and out, ensuring there is controlled entry and exit for security purposes.
Street parties: Festive seasons such as Christmas bring out Christmas markets and celebrations, sometimes a danger to pedestrians. Temporary concrete barriers can help guard people from an accidental and sometimes a deliberate crash.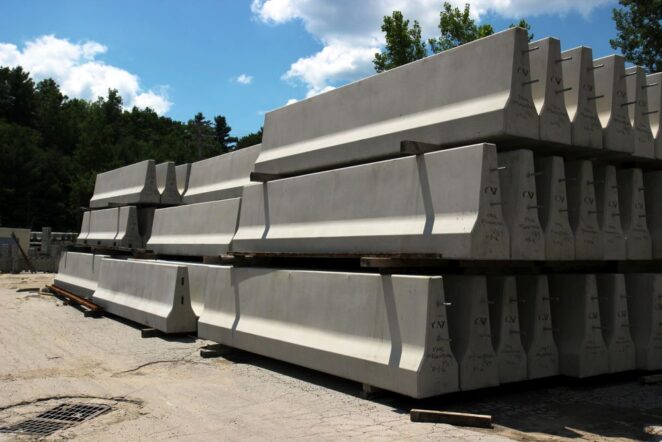 Used to provide security
Theft and vandalism can be frequent and traumatizing. It also leads to huge losses and thus requires reliable prevention measures. You can use concrete barriers to prevent:
Unwarranted encampments: Your undeveloped property can attract unwanted visitors. Using concrete barriers to block vehicle entry and to serve as a perimeter wall around your property completely solves this problem.
Trespassing: It is not common knowledge to everyone that an unused piece of land is private property. A simple way to keep ignorant and unknowing trespassers at bay is by fencing your property with concrete blocks.
Fly-tipping: Fly-tipping is unauthorized waste disposal, which has become rampant because of increased costs of disposing of waste, and the restrictions on the type of materials accepted in municipal waste disposal sites. For these reasons, vacant buildings and spaces become vulnerable to fly-tipping. Having concrete barriers placed strategically will restrict entry by vehicles, and reduce the possibility of commercial fly-tipping on your property.
Used to provide support
Support is a new dimension of creatively using concrete barriers. For example, you can use precast Jersey barriers to add support for marquees and festival tents during seasons of bad weather. They are also ideal to temporarily hold hoardings and billboards.
The retaining function
In addition to security and protection, some concrete barriers are specifically for retaining mass soil. Such is the case of areas prone to landslides. That is the reason behind concrete barriers stacked together along roads, to prevent the earth, rocks, or snow from rolling onto the road. Interlocking precast concrete retaining walls help to retain soil and elevate flower gardens. They are also used to create fountains and other aesthetic landscaping features.
Blocking view
Some activities and events can be very distracting to the community and the road users in the vicinity. You might also need a high level of privacy around your private residence or working environment. Concrete barriers are a perfect choice for creating a physical barrier that will effectively work against spying, snooping, and invasion of privacy attempts.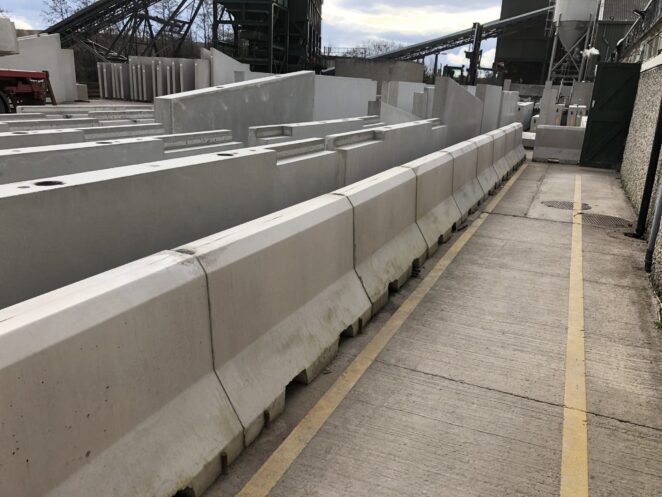 Temporary grain storage
Farmers have found interlocking concrete barriers useful for temporarily storing grain. The weight of concrete blocks provides a steady and waterproof wall that can act as short-term storage for grain and hay. You can construct more advanced storage units using concrete barriers, with modifications on roofing, entry, and exit points.
Used for defence
This use is most common in places where flooding is a constant danger. Precast concrete retaining walls prevent water from entering public areas and private property. In coastal towns and regions, concrete barriers are popular for this function.
More urban uses
In cities and towns, concrete barriers have an endless list of creative uses. They have been used to prevent cars from parking dangerously close to buildings. Concrete blocks placed as perimeter or retaining walls are customized to act as the base of outdoor benches. You have probably seen concrete blocks used to subdivide recreational public spaces in the quest to blend urban ideas with nature.
The advantages of using concrete
There are barriers and retaining walls made of wood, steel, and plastic. While each material has its pros and cons, the most used material for these purposes is concrete. It is because of the unique features that translate to the numerous advantages of using concrete over any other material.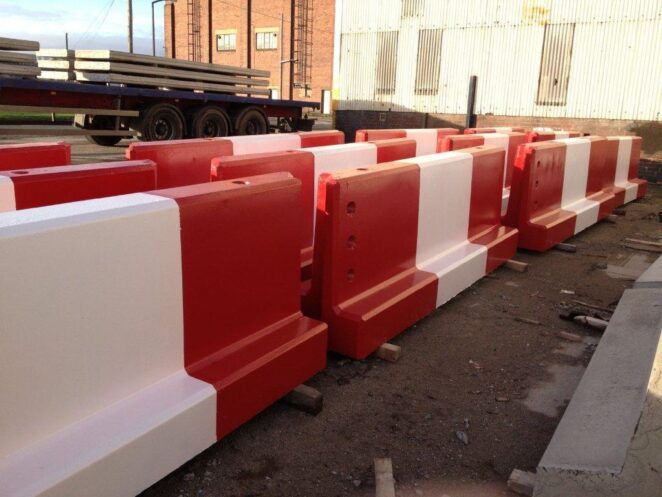 Easy to install: Unlike the traditional walls, concrete barriers and retaining walls are precast. They reduce much work during installation. All that is required is to place them in position.
Affordability: Ordering precast concrete barriers is easy. With the right measurements, you only request what you need. There is no waste produced, thus no loss or additional costs. You have the liberty to choose between buying and hiring, whichever works best for you.
Durability: Unlike other materials, concrete works best in outdoor environments and is resistant to harsh weather and damage from impact. Concrete barriers, blocks, and retaining walls remain in use for decades without the need for maintenance.
As with every construction, ensure to seek expert advice at every level of choosing, installing, and maintaining your concrete barriers. Some functions will require safety audits and engineering skills to achieve. Different designs are for specific functions only an expert can help you understand. Also, choose the concrete barriers and retaining walls from a reputable company such as www.jpconcrete.co.uk for quality and reliable guidance. The internet is a good platform to source ideas and to find a company near you.