It may seem a little strange: this new, fad sport is generally considered more of a parlor game, more of an extreme party activity than a health trend. People go axe throwing for bachelor parties and birthdays, after all – not to shed a few pounds.
And yet, despite its reputation as a trendy party sport, axe throwing has a surprising range of health benefits. From its purely physical benefits (you are, after all, repeatedly lifting and hurling a weighted object) to its psychological benefits, axe throwing may seem like it's all just for fun, but in fact, it hides a treasure trove of value.
If you're curious about giving axe throwing a go, check this out – the page gives clear instructions on how to set up an event. When you book an event, you receive a free training session on throwing an axe, so it's no issue if you've never picked up an axe before, let alone thrown one.
Round up a few of your friends, try something new, and reap the following health benefits of axe throwing.
Axe Throwing is an Effective Stress Reliever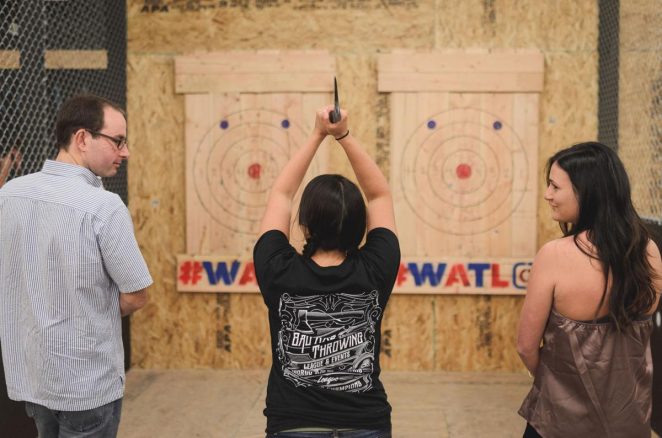 For much the same reason that banging on a drum set or punching a punching bag helps you relieve stress, axe throwing chops away at whatever built-up tension you carry. There is something uniquely therapeutic about the entire process of axe throwing: forcefully hurling the axe forward, releasing it, watching it spin through the air, and, finally, seeing it splinter into the wooden target.
To relieve a little tension after a hard week at work, find a few colleagues who are game for axe throwing. Between the sport itself, and the couple beers that accompany it, any stress you accumulated during the week will melt right away.
Effortlessly Exercise Your Core, Shoulders, Lats and Legs
Similar to a few existing cable exercises, the motion of axe throwing, when repeated over the course of a night, work out a number of muscle groups. Primarily, axe throwing works out your core, your shoulders, your latissimus dorsi (or lats for short, the large muscles covering the middle of your back), pecs (the muscles in your chest) and your leg muscles. The best part, though, is that you don't really notice the work you're doing – axe throwing is so much fun that you rarely pay attention to its physical effort.
If you make a habit of axe throwing – for instance by joining a league – you'll continue to work and strengthen those muscles over time.
Having Fun With Friends is Important for Health and Wellbeing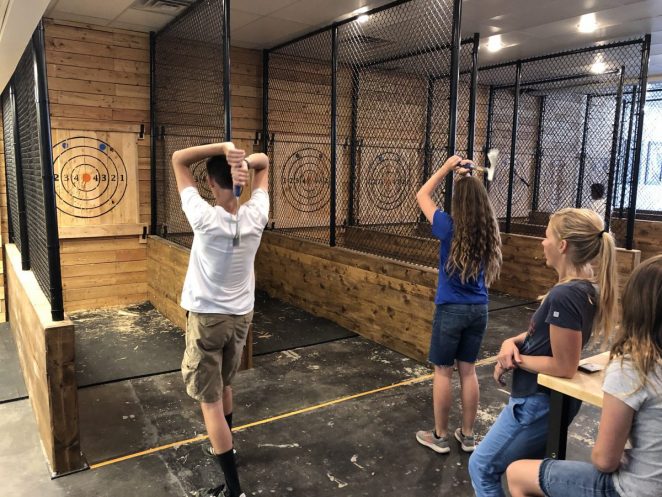 Hanging out with friends, trying new things – these are incredibly important to your overall psychological well being. According to Psychology Today, partaking in new activities with friends can help you manage your thoughts and behaviors to optimize for happiness and contentment.
Axe throwing, like bowling or darts, is a communal rec sport. Aside from being fun, physical, skill testing and stress relieving, it's simply a good way to spend time with others. And, often, that's one of the healthiest things you can do for yourself.