Apart from marrying the love of your life, you have a few other things to worry about before your big wedding day. Choosing a perfect wedding dress that lives up to your expectations and dreams is difficult. As a plus size beauty, you may know the constant struggles of picking something that suits your figure and body type. We're here to give you some of the best advice; styling tips fit for a queen (or princess, if that's what you want to be!).
We know it's a struggle as a plus size woman in our modern day, but plus size wedding dresses are readily available, you need to know where to look! Countless retailers offer plus sizing on wedding dresses, and if you're looking for an affordable option, JJ's House is a great choice. Keep reading for our styling tips, and you won't regret it.
Ignore the Numbers
You may know your size, whether it's a 16 or 24, that doesn't matter when it comes to choosing a wedding dress. Try on your typical size as a starting point, but don't be afraid to try on bigger or smaller sizes if need be. Ignoring the numbers is especially important for your wedding dress as it should be about how comfortable you feel and how wonderful it looks. Don't get caught up with the sizing and you're sure to find a perfectly fitting dress.
Leave Your Comfort Zone
Keeping an open mind is essential when shopping for your plus size wedding dress, it may be that you find something typical of your style, or you may have to try other styles that leave your comfort zone entirely. Don't be afraid to do this. Your wedding day is one of the most amazing days of your life, and you have to make every minute count. If that means you have to wear a dress you wouldn't typically choose, then so be it. Keep in mind that sweetheart and V-neck necklines work well with those brides who are trying to minimize their bust area.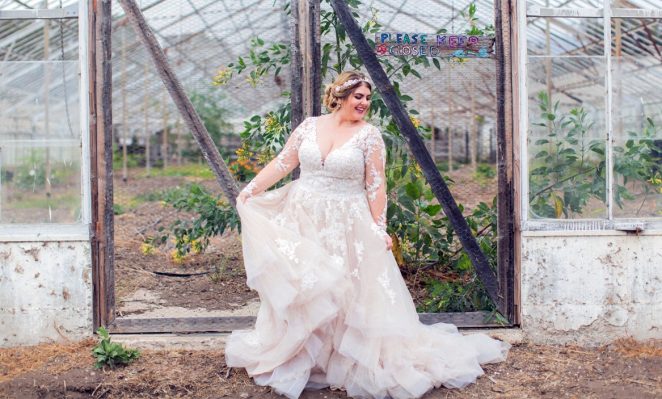 Don't Worry about Details and Embellishments
Unfortunately, you may have to opt for a plus size wedding dress that is plain and simple. But, don't worry! Extra details and embellishments can be added after you have purchased it. When you're trying it on, imagine it with additional pieces and even some pops of color for the one to come alive in your mind and be everything you've ever dreamed of.
Consider the Fabrics
There are a variety of fabrics to choose from, and some may suit your figure better than others. Most plus size brides will find that flowy and soft fabrics like chiffon work best for their dress but thicker and more supportive fabrics can also work at creating a structure for it. It's best to avoid shiny fabrics as they're not flattering on many body types.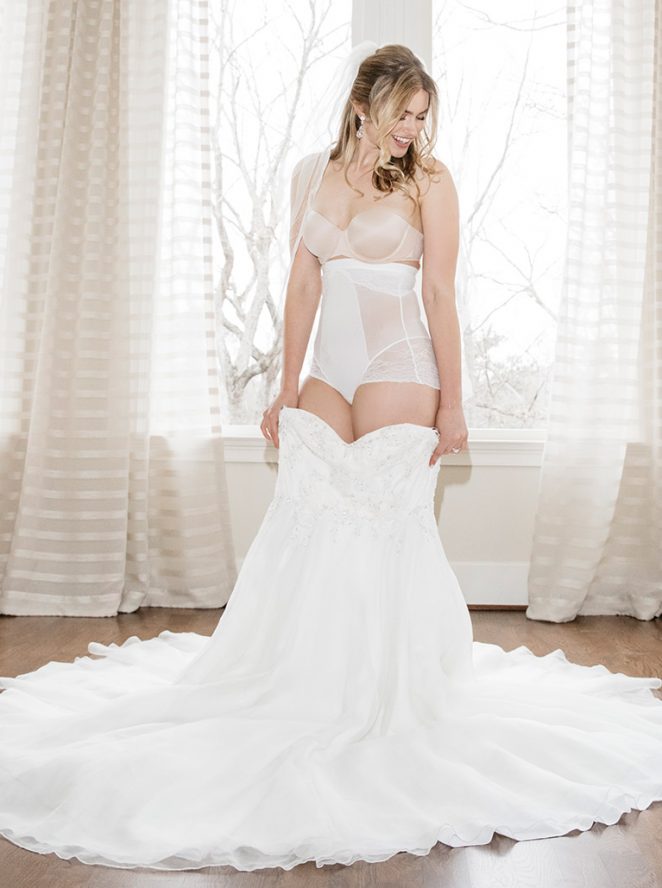 Love Shapewear
If you're not familiar with shapewear, it's about to become your best friend. As the fashion designers say, you could be wearing the most beautiful dress in the world, but if the foundation underneath isn't right then, it will ruin how it looks all together. It's best to purchase shapewear for around areas you would like to smoothen out and bring them to your wedding dress consultations to ensure everything looks amazing. Speaking of something that you may need underneath; you may also prefer wearing a petticoat which will make you more comfortable whilst walking down the aisle. In addition, you can also choose a pair of flat wedding shoes to make you more at ease and relaxed while walking.