When you think about it, the process of choosing a new mattress can be a time-consuming and somewhat stressful process, especially since there are endless types, designs, and features. You might have felt overwhelmed before searching for this article. And if you found yourself in this situation, this article might be able to help you out with some things. In the text below, you will learn where you can buy mattresses, as well as what to consider when choosing one. Let's first take a look at where you can purchase them:
Where to Look For and Purchase a Mattress
Yup, you guessed it right. There are two places that you can look for a mattress including
A Brick-and-Mortar Shop
If you want to feel it before choosing to buy one, you should go to a brick-and-mortar. There are various benefits you can gain like the shop offering to remove your old and place the new mattress, trying out a wide range of them, as well as feeling the texture of it. However, one downside is that it will be difficult to compare the prices. Also, a lot of people choose to try a mattress out for a minute or two, but if you really want to know if it will be comfortable for your body, you should rest on it for at least 10 to 15 minutes.
An Online Shop
If you are like me, you do not like to go from store to store, browse different items, and then think long and hard about what you should buy. Instead, you probably like for your items to arrive at your doorstep within a week of placing the order – and if you choose an online store, it will be delivered to your home. As a brick-and-mortar business, there are various benefits, however, the best one is that the shop will likely include a money-back guarantee and free shipping. The downside? Well, you will have to set everything up by yourself, not to mention that you will also have to dispose of the old one.
The Five Basic Types

There are 5 basic types including:
Pocket Sprung – which is the most common one out there. It will be bouncy since the springs implemented in the fabrics offer tension. You can choose from a wide range of tension levels, and by choosing a pocket sprung one, you will ensure that you have support throughout the night. The mattress can be stuffed with various materials and unlike other mattress types, they will not mold your body or keep you warm during the night.
Memory Foam – now this one does not offer that "bouncy" feel, instead, it will mold your body. Hence, you will not disturb someone that is sleeping next to you when you toss and turn when sleeping. They are durable, so, they will stay in shape for a longer time, and there are new ones that arrive rolled or vacuum-packed, for more information check out Nolah Mattress.
Latex – although quite similar to the memory foam ones, they do have more springs. If you opt for natural instead of artificial latex, you will also get a mattress that is antimicrobial and resistant to dust mites. You can choose from two latex types including the heavy Dunlop latex, and the softer and lighter Talalay latex. If you want to see the best natural latex mattresses, check out Sleeping Ninjas.
Hybrid – this is a combination of two types. For instance, it can have a core that is pocket-sprung (meaning that it is bouncy) and a top layer that is made from foam (meaning that you will have that molding feature).
Open or Continuous Coil – the first one is features single springs attached together and the second is manufactured from one, looped wire. Although they will not take a big chunk of your budget, they might be uncomfortable and it will move when you move, meaning that the other person might get disturbed if you are a restless sleeper. They are also not as durable as the ones previously mentioned, so, if you opt for this one, do not expect it to last very long.
The Sleeping Position Should Influence the Mattress You Purchase
The most important thing to consider when opting for a mattress is the position you sleep in:
If you Sleep on Your Side – you will want to opt for one that will offer pressure relief. Pocket sprung ones that have a foam top are best, however, you can choose latex or foam ones as well. Definitely avoid getting a firm one that can easily cause aches where your body puts pressure on the mattress.
If you Sleep on Your Stomach – once again, a pocket sprung one will work best and it will support you where it should. On the other hand, memory foam can cause you to feel restrained.
If you Sleep on Your Back – if you love sleeping on your back, you can choose any of the previously mentioned mattresses. But, you should opt for one that will give you support and keep your back aligned at night.
Soft, Medium, or Firm?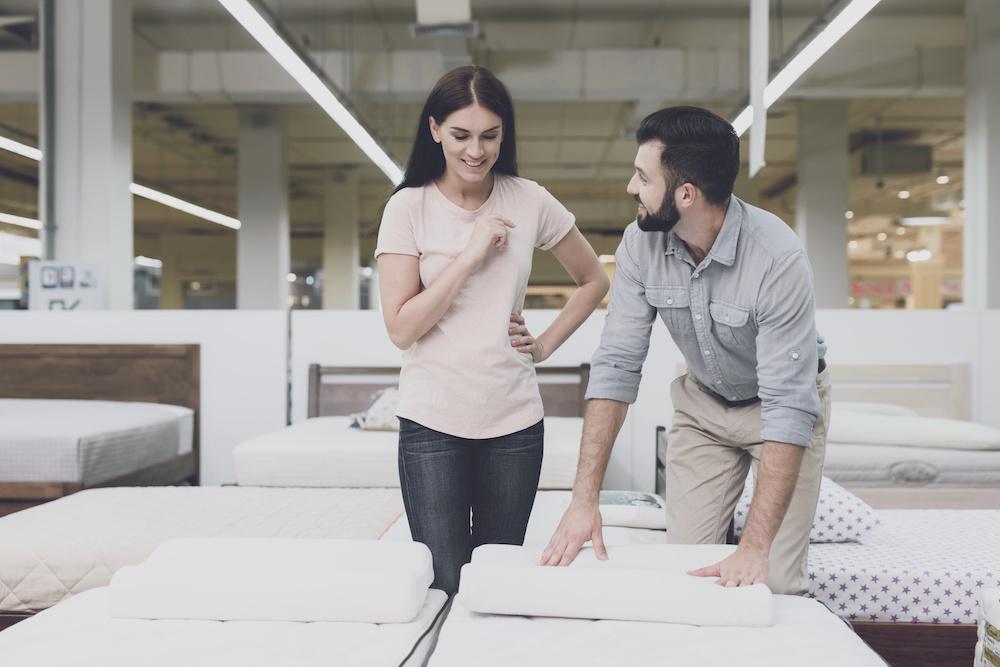 Generally speaking, heavier individuals might want to choose a firmer one, while lighter individuals should choose medium or soft ones. But, to choose the hardness, consider your taste and your usual sleeping position. Do not think that a form one will be better if you have back problems – that is a myth people like to tell.
Will it Need Turning?
If you want it to last longer, you will need to occasionally turn it to avoid this. Think about this when opting for one, especially since most of them are quite heavy. If you want to avoid the turning process, simply buy a mattress that will not need turning or rotating.
The Warranty is Important
Always ask if there is a warranty, and if there is one, you should not only check how long does it last but if it is in fine print as well. Most warranties will cover the manufacturing process which includes a popped spring or the foam not returning to its normal state. Whatever mattress you choose, make sure that it has a warranty that might save you a lot of cash later on.
Conclusion
Now that you know what things to consider when buying a mattress, do not waste any more time and start searching for one that will fit all of your sleeping requirements. Visit sleeprepublic.com.au for more information.