Cloud technology has become a strategically important tool for business development. Among the most valuable benefits of using cloud services, users indicate higher IT accessibility, lower expenditures, better flexibility and scalability of resources.
Briefly, cloud technology is a new model of IT services when you don't need to buy your own software. You can use these services for free, at a certain cost, for as long as you need. Every business has the data and applications which they need to be accessible all the time. These assets must be securely protected from breaches, unauthorized modifications, thefts, etc. Clouds meet the demands of most companies; they provide great resources for computing, virtual processors, network connections, disks, and other capabilities.
Three Types of Cloud Services
With a good cloud service in place, companies are able to work without specific equipment, get the necessary infrastructure to reach business goals, protect their data with backups. To choose the right cloud solution, you need to figure out what types are there.
Software as a Service (SaaS) is a ready-made solution that requires minimum setups. Any user will be able to use this service without a system administrator's support. Examples: Trello, Evernote, Dropbox.
Platform as a Service (PaaS) is a solution designed mostly for developers. PaaSs are sets of ready components to build an application. In this case, components can be services without data, repositories, tools for automated deployment and testing, etc. Examples: Heroku, Google AppEngine, OpenShift.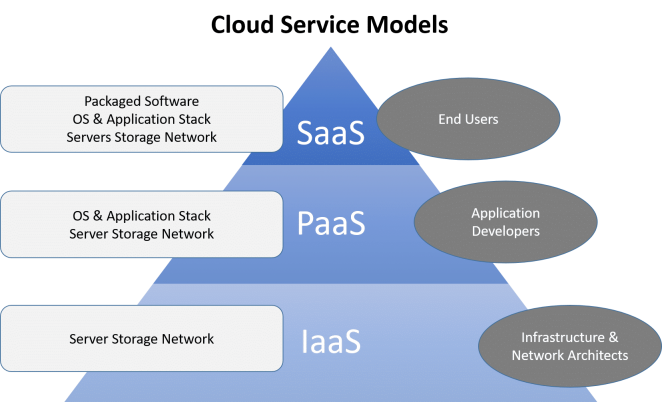 Infrastructure as a Service (IaaS) is mostly focused on owning hardware and virtualization. In this case, you get cloud processors, memory, disks, and networks with the help of which you build a needed IT infrastructure.
Four Types of Migration
What cloud solution to choose? To select the right technology, you find your balance between the setup speed and the system's flexibility. If you made up your mind to migrate to the cloud, you should learn about the key tools and ways to transfer your data.
To correctly migrate into the cloud, you should collect the following data:
Type of the source server or virtual machine
The scope of data that is to be transferred
Allowable time of downtime
Based on this data, you will be able to choose among the key migration types.
Physical to Virtual (P2V) is aimed to migrate data from a physical server to a virtual one. This type of migration is characteristic for the enterprises where the infrastructure evolves and scales up.
Physical to Cloud (P2C) is focused on migrating data from a physical server to the IaaS resources. This type of migration is popular within those companies that have a dilemma – to buy their own server or start using cloud resources.
Virtual to Virtual (V2V) can be used when there's a demand to transfer one corporate standard to another.
Virtual to Cloud (V2C) faces the same issues as the first type of migration. In some cases, you will need to undergo all the mentioned migrations to use V2C.
Six Top Benefits of Cloud Migration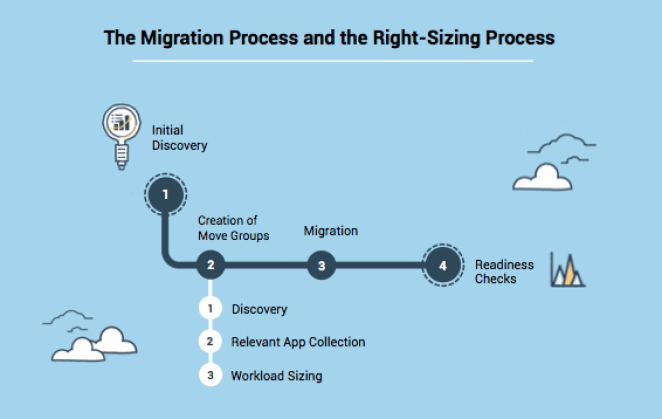 First off, the cloud changes the methods of technology and information assets management. Thus, provides a wide range of benefits such as follows:
Efficiency. These services are independent of computing systems and their locations. It allows cutting costs for scaling in accordance with your current needs.
Security. They are protected not only with a firewall and encryption but also with specific rules implemented in the virtual containers.
Flexibility. The volume of technological resources can be easily scaled up during peak loads, and then changed back to the previous level.
Automation. Software for cloud management automatically performs its tasks sending a needed volume of resources to users. It simplifies the work of IT staff.
Optimization. They are run as unified systems that's why any user is able to optimize existing resources by combining best practices, better performance, and reasonable costs.
Accessibility. Access to cloud services is provided via a common browser. It allows employees accessing more information, applications, resources, and business services.
Standard Cloud Migration Services
Before planning to migrate to the cloud, check your existing software for the available migration tools. This will help you avoid redundant steps. Moreover, if you don't have in-house IT staff, you can consult with Diceus cloud migration specialists. In terms of cloud migration, they usually offer the following services:
Recommendations on public or private cloud services according to the existing infrastructure specifics and requirements to a new infrastructure.
Preliminary estimates of migration.
Planning and testing of migration.
Migration itself.
Backup organization.
Technical support of cloud infrastructure.
This a standard pack of services, however, a lot of software companies offer advanced options for more specific needs of their customers. They conduct an in-depth business analysis to identify your needs and choose the best-suited tools to migrate.